Ass Savers Offers Sleek and Durable Protection for Gravel
With headquarters in Gothenburg, Sweden, Ass Savers has been a successful brand recognized by cyclists around the world for their simple and innovative mudguards. With strong showings in the road and mountain categories, they now bring their product design experience to gravel with several new products.
We got our hands on some of these new gravel mudguards, and even a couple classics, to test them out on a variety of gravel bikes and conditions. While our Southern California climate may not highlight some of their key benefits, overall the gravel specific Ass Saver lineup easily impressed on design, function and durability.
Products tested:
Ass Savers Regular
Our Impressions
The original Ass Savers is one you have probably seen before, a mudguard that attaches to the front saddle rails only, was easily one of my favorites. I love the clean design, simple install and seamless integration. One thing to keep in mind is the compatability with your specific saddle/seatpost design. I was originally unsuccessful with my 2015 Specialized Diverge, as the FLIT-TIP would not properly install around the bulky shape of the COBL GOBL seatpost. I had no problem however with installing on the Canyon Grail or Rocky Mountain Solo, 2018 gravel bikes that both feature more traditional seatpost designs.
The FLIP-TIP installation was surprisingly quick and secure. Also worth noting is the Ass Saver was compatible with our saddle bag that attached to the back rails, a definite bonus knowing I won't have to choose between the two.
Ass Savers Regular Features
Lightweight mudguard
FLIP-TIP™ attachment system
Easy installation
Fits standard rail saddles
Suitable for tire widths between 23-35 mm
Mudder Mini
Our Impressions
The smallest of products we tested was the MUDDER Mini, a very sleek accessory designed for modern gravel/cx forks. Again, I originally tried to install on my Diverge with no luck, as that fork only allowed for clearance up to 35mm tires. More recent gravel bikes however were not a problem, as I was able to install on both the Grail and Solo.

Ass Savers says that this mudguard is specifically designed to block dirt from being thrown forward and potentially impair your vision during high speed riding and the wellness of your lower headset bearings. While I found it hard to notice any significant difference in up-spray, I could see in some conditions the added protection may avoid larger gravel chunks from hitting the frame and fork. I also appreciated the soft materials used in the straps, that keep the mudguard in place as well as prevent any unwanted movement that might scratch the fork.
Mini Mudder Features
Protecting face and headset bearings
Mounts easy and securely with antislip straps
Should fit all modern cross/gravel forks
Lightweight at 21 grams
Suitable for tire widths 32-55 mm
speed mullet
Our Impressions
Probably the most unique of all Ass Saver products tested, the Speed Mullet. Better looking than its namesake haircut, this guard was quickly installed with a proper folding and strap to the frame. Those with external cables will also be happy to know the Speed Mullet has a fancy cable routing feature, utilizing two shallow channels in its design to allow for cables to pass between it and the frame.
In the dry, dusty conditions of San Diego trails, the Speed Mullet did a stellar job of minimizing unwelcome dirt building up on my water bottles and shoes. I also liked the mounting position flexibility, as this mudguard can be optimized to protect either your feet or drivetrain.
Speed Mullet Features
Designed to keep feet dry on wet roads
Universal fit for all bike types
Cable routing friendly
Mounts in seconds, without tools
Suitable for 23-42 mm tires
Fendor Bendor BIG
Our impressions
Developed specifically for gravel and adventure biking, the Fendor Bendor is an impressive accessory that further expands the Ass Saver mudguard lineup. Easily the largest of all products tested, it comes folded in half for easy shipping. A midway folding line also allows for easy storage, or in case you want to stow away in a backpack or strap to your bikepacking gear. The Fendor Bendor is noticeably longer and larger than the traditional Ass Saver, which the company claims is to accommodate the longer wheelbases normally associated with this category of bikes.
Installation wasn't immediately obvious, and I had some skepticism that it would actually mount onto the Solo frame. The key to a successful install I found was to firmly prefold along all scoring lines, giving it the proper rigidity and strength. The kit also comes with frame protection stickers from 3M, and overall fit nicely within the bike's seat stays. Given the three points of firm contact with the frame, this mudguard was surprisingly sturdy and stayed in place even on bumpy terrain.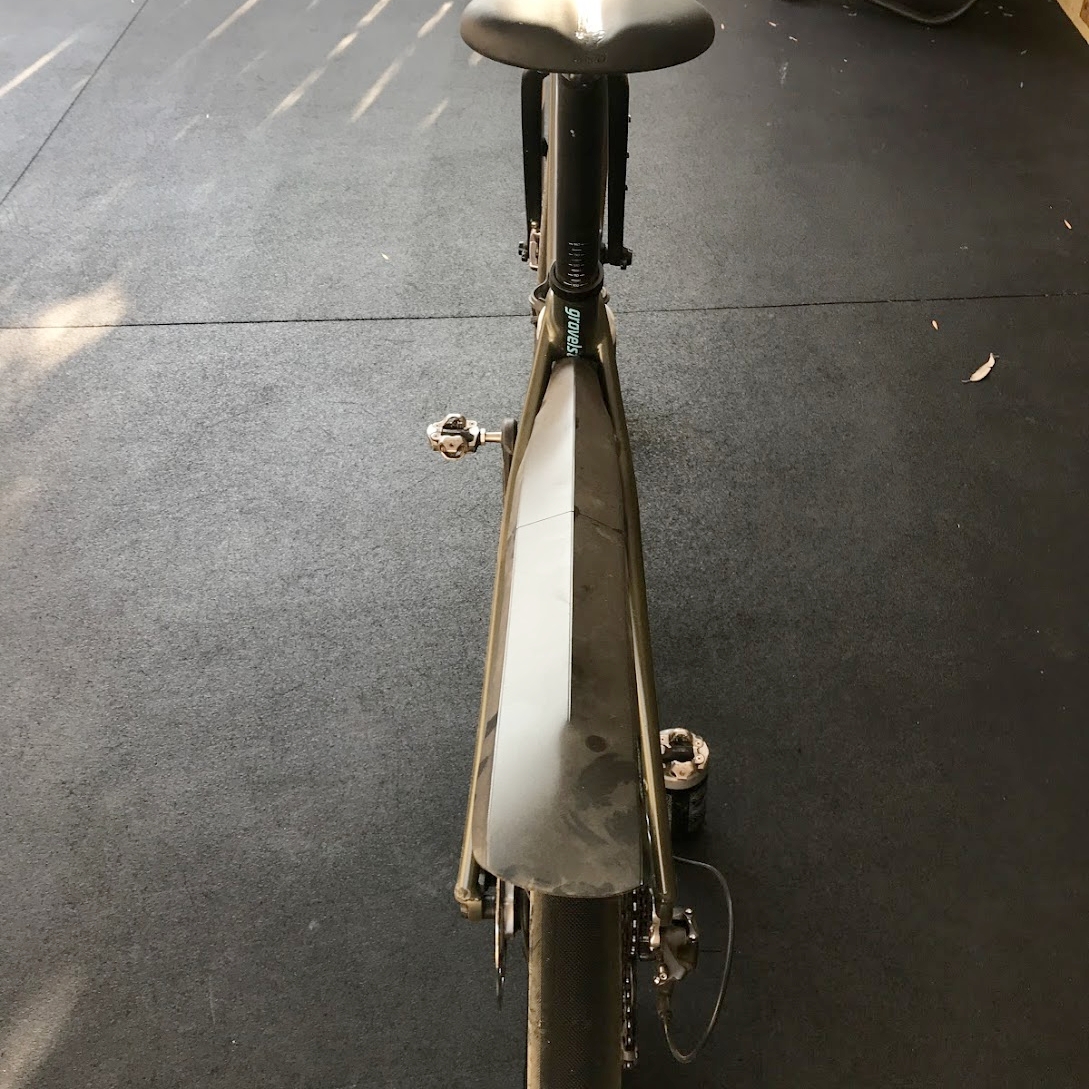 Fendor bendor Features
Simple, self supported design
Maximum protection
Weighs 61 grams
Suitable for tire widths between 32-55 mm
Final THoughts
One misconception I admit having of these products was their durability. I assumed they may be flimsy and disposable after just a few rides. Fortunately however, I couldn't have been more wrong. All of the Ass Saver products tested are made of durable materials, and can be easily installed and removed multiple times without fail. Although this was a short term test over the course of a couple months, I'm confident these products would last for at least a full season or two of hard riding.
After testing on a variety of bikes, multiple rides in various conditions, I have been very impressed by all Ass Savers products from a design, durability and functionality perspective.
If you are looking for an attractive, lightweight mudguard solution for your gravel bike, definitely give Ass Savers a try. With that being said, be sure to pay close attention to the size and fit of each product with your specific bike build.